JOE CROOKSTON
Joe is a force of nature on stage. He is in his power AND he communes with his audience and welcomes them into the magic.
From touring with Gordon Lightfoot, headlining major US festivals, receiving Folk Alliance International "Album of the Year," releasing NINE BECOMES ONE (2023) to being named Folk Alliance International Artist-in- Resident, Joe is on fire. He's played with Suzanne Vega, Dar Williams, David Francey, John McCutcheon, John Gorka, Judy Collins and 100's more. His songs are are being made into award winning films. Watch this trailer for Brooklyn in July
He'll surprise you. He awakens the cynics. He's plumbing for lyrical gold.
His rhythm is infectious. In concert, he is funny as hell one moment and transcendent the next. photo: Linda McDonald
HE BELIEVES IN STORIES
Come to a show. Visual, artful and surprising. Brooklyn in July, Oklahoma towns, rattlesnake tails, turbary thieves, meter maids and drunk roosters. At the end of the night, you'll leave inspired. "The Long Note" is a phrase in Irish culture. "The Long Note" is that place of resonance and transcendence where the music, the voices, the instruments, and the community ALL come together and unite.
THERE IS A LONG NOTE & JOE IS REACHING FOR IT
Whether he's weaving through lap slide songs or fiddling an American Southern tune, he'll draw you in. It happens every time. Watch a YouTube video…it's fine, but it's not the same. You gotta come to a show. With unwavering courage to be himself, he is literate, poignant and funny as hell.
He lives in Ithaca NY, and tours regularly in the US, Ireland and Canada.
Best quote~ "I hate folk music, but I absolutely LOVE Joe Crookston's music.!"
photo by Kevin Corkrean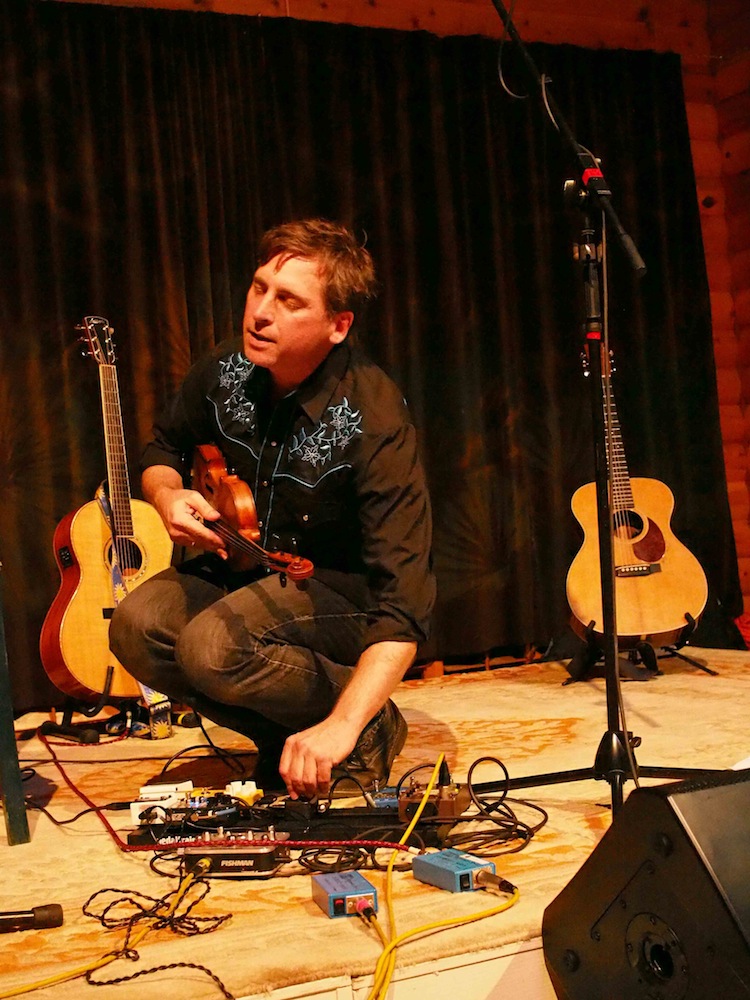 Joe: "I'm learning to trust my voice as a songwriter. Be who I am. trust the stories and follow no trends. More and more I find that when I tell my true story, it has wider breadth, deeper impact, and resonates more clearly.
I do feel as though I've honed a way of writing and performing that has identifiable themes and expresses my quirky uniqueness.
There's a Georgia O'Keeffe quote that I love, and I'm paraphrasing: "The parts of ourselves that we are most self-conscious of, are the parts of ourselves that are most uniquely true to who we are."
I see my job as an artist to have the confidence to sing, play and perform from this deep/true place inside of myself despite what is hip and cool at the moment."
~~~~~~~
Joe Crookston is a master storyteller & he is seeking the creative edge. His music swirls with themes of lightness, darkness, clocks ticking, fiddle looping, weeping willows, slide guitar bending, cynicism, hope, and the cycles of life and rebirth. If you love a moving song and musical madness, Joe Crookston delivers it all, the melodies, the lyrics, the energy, and a deep passion for exceptionally well-written songs.
Haven't seen him perform? Watch a You Tube video..it's not the same. you got to be there.
COVER SONGS: His music has been recorded and performed by Irish harpers, a cappella gospel choirs, solo artists, and bluegrass bands.
SOLO: Joe performs regularly as a solo artist. His blend of guitar mastery, story songs, humor, unstoppable energy and rhythm bring the house to their feet at almost every show.
DUO: (For select dates) Joe is available as a DUO.
TRIO: (For select venues and festivals) Joe is available with his trio "The BlueBird Jubilee" Six-string guitar, tenor guitar, vocals, cello…deep fun.
WORKSHOPS/RETREATS: Joe enjoys teaching and facilitating. For select dates he is available for songwriting workshops in conjunction with a public concert. He is an experienced facilitator, and has been invited to teach at many retreats including SummerSongs, The Swannanoa Gathering in North Carolina, and the Yearly Quaker Gathering in Rhode Island.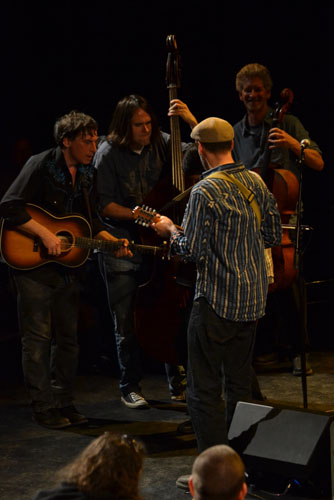 VISUAL ART: For select concerts, Joe displays his acrylic and oil paintings combining his visual art with his music. As a painter and songwriter, Joe brings his love of imagery to life on stage, in his songs and to the canvas.