Streaming Streaming. What an honor to be part of this great State Theatre Event with Rhett Miller, Ketch Secor, Sim Redmond, Maddy Walsh, Hiss Golden Messenger & Lots more…Love the State Theatre in Ithaca!
John Gorka and Amelia Spicer..in Florida. they inspire me.
Tom Paxton..20 years after I met him…we meet again.!

The Film Brooklyn in July has traveled all over the world. wow..a small seed will grow.

~ A couple of great shows with Susan Werner! Looking forward to more!
~
August 2017~ Josie Rae and I playing Main Stage at Falcon Ridge. She nailed it!


Joe & Judy Collins in Kansas City
________________________
WOW!…JOE'S PAINTINGS are FEATURED in Canadian Gallery along with LEONARD COHEN, BOB DYLAN, DAVID FRANCEY, MILES DAVIS, JONI MITCHELL and more……
True North Gallery | The Music Gallery
Griffin House – Arts Culture & Innovation Business Centre
23 Griffin Street Waterdown, ON CANADA

PAINTING BY: LEONARD COHEN
LISTEN to NPR Interview 2016 Folk Alliance International Artist In Residence. The premier of "The Letters of Florence Hemphill" Painting, Song and Video at the keynote with Judy Collins. Thank you FAI for this great honor! ~ Joe C
____________________________
Joe Crookston speaks to Penn State students for Global Entrepreneurship Week ARTICLE HERE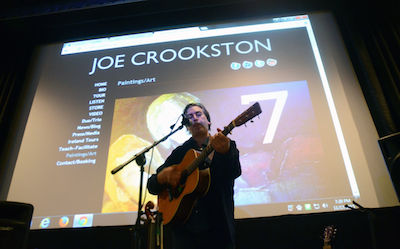 JOE On ABC NEWS…FINALLY some good news.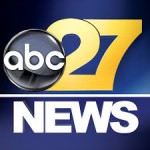 AUGUST 2015 Singing Blue Tattoo on ABC 27 News CLICK HERE
AUGUST 2015 Joe Crookston Interview on ABC 27 News – CLICK HERE
______________________________________________________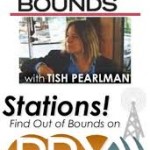 SEPTEMBER 2015. I would love for you to listen to these interviews! A behind the scenes glimpse at my art and what I believe. Thank you Tish Pearlman! Tish hosts this incredible syndicated radio show. We recorded the first part and we BOTH knew a second part was needed. Here are 2 links to the interviews. Happy to share these with you.
________________________________________________________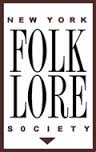 SO Honored!! The New York Folklore Society featured me in the latest edition of VOICES magazine. CLICK HERE Amen to folk and community and people singing and rising towards human potential!
___________________________________________________________________


MAY 16-18 2015…RIVER ROOTS IN MADISON INDIANA WOW! MY SECOND TIME BACK AND LOVED IT EVEN MORE! THIS IS AN AMAZING FESTIVAL! __________________________________________________________
SUMMER FESTIVALS * IRELAND

In addition to some beautiful theatres and clubs this summer, I am thrilled to be playing at The Kerrville Folk Festival in TX & River Roots in Madsion IN and The Celtic Music Festival in Ontario, Canada. I'll also be touring Ireland in July!
"BROOKLYN IN JULY" * NEW SHORT FILM
NYC writer and Director Bob Celli, known for Going Home (2002), Figs for Italo (2015) and Jennifer Monroe P.I. is currently working on a screenplay for a short film based on my song Brooklyn in July. The song, inspired during Joe's Rockefeller Finger Lakes songwriting grant project, is set in 1945 on Fulton Street in Brooklyn. Frank, a limousine driver sits down to lunch at the Fulton Street Diner and is met with overt hostile racism…timely & relevant (1945-1965-2005-2015)
Zen Monk Thich Nhat Hanh Singing Fall Down as the Rain

Vietnamese Zen Buddhist monk, teacher, author and poet lives in the Plum Village Monastery in the Dordogne region of France. My song "Fall Down as The Rain" has been incorporated into his teaching mediation at Plum Village. Thich Nhat Hanh and his community are in the process of recording the song for an upcoming CD compilation of teaching songs. "Fall Down as the Rain" will also be included in the new RISE AGAIN songbook, the sequel to RISE UP SINGING.
_______________________________________________________________________
Kessler Theatre Dallas, TX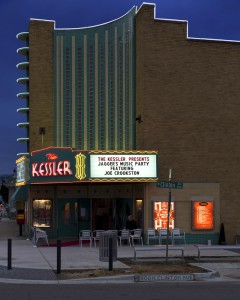 What an amazing night at The Kessler in Dallas, TX!
Thanks to John Jaggers for organizing
this event. I'll be back to The Kessler for sure!
Look at that blue sky. Vintage sweet space!
________________________________________________________________

The Winnsboro Center for the Arts
The Winnsboro TX News March 2015
There's something good here . . .
The Joe Crookston show at Winnsboro Center for the Arts was one of the best acoustic concerts I've seen in a long time. Crookston is the consummate entertainer. His storytelling skills rank up there with Woody Guthrie, Guy Clark and Townes Van Zandt. Seriously.
He's a great picker and plays a mean lap slide guitar. He denies it, but he's mastered the fiddle, too. His voice is clear as a bell. In fact, he's so good at everything that you forget how hard he's working.
He took us on a journey from Tinian Island for the building of the runway that the Enola Gay and Little Boy used to fly over Hiroshima, to Brooklyn, the scene of an ugly racial incident, through the finger lakes of New York, to the Blasket Islands off the coast of Ireland and then dipped down into the Mississippi Delta for blues so good I could close my eyes and feel the presence of Lightnin' Hopkins and Mance Lipscomb.
Crookston's passion for his craft is obvious from the time he bounds on stage … he loves what he does and it's not hard for the audience to love him right back.
When Crookston returns, do yourself a favor and get a ticket.
Terry Mathews
_______________________________________________________________________
w/ Suzanne Vega at The Towne Crier, Beacon, NY
Marlena on the Wall and Luka and The Queen and the Soldier. Suzanne Vega is artful and literate as always.. Thanks for the wine and conversation and laughs Suzanne. Towne Crier, Beacon NY, NOV 2014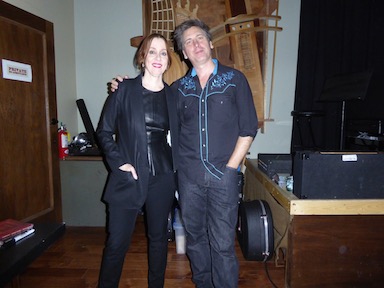 ____________________________________________________________________
A great night with shinning spirit Ellis at Circle of Friends in Franklin MA! Thanks Jake and Ellis and Neale Eckstein for the photos!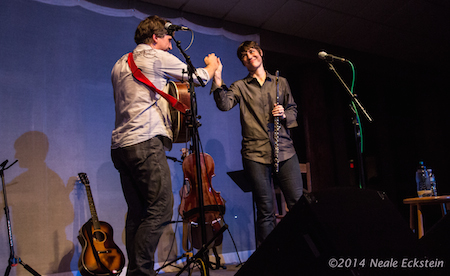 _______________________________________________________________
I LOVE RJ! In Texas at Uncle Calvin's October 2014 Goosebumps and Harmonies! Photo Ira Hantz!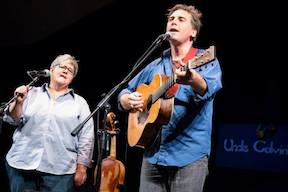 ___________________________________________________________________
Joe Crookston 
Georgia I'm Here
 (Milagrito Records)
REVIEW IN NO DEPRESSION AUGUST 20 2014

Joe Crookston wears his influences on his proverbial sleeve. It's easy to imagine that Jackson Browne, Jim Croce, Harry Chapin, John Denver and Dan Fogelberg were among those singer/songwriters frequenting his turntable as he came of age. With that in mind, it's safe to say that Crookston makes music that's rarely heard on radio any more. Illuminated by the California sunset and amplified like waves crashing on a lonely stretch of the California coast, Georgia I'm Here sounds like an album made in a time warp, brimming with the soft, sensual sounds once heard on the FM dial from coast to coast and beyond. Notably, Crookston's no newcomer, and so it's no surprise that his music sounds savvy and assured, lacking any hint of pretense or needless redundancy. He sings and strums like he's been at it forever, like one of those aforementioned troubadours who shares tales woven from heartstrings and well-worn sentiments that give listeners something to which they can relate. The reference points are too numerous to mention, but a single listen to songs like the title track, "Impermanent Things," "Fall Down as the Rain" and, in fact, all the rest quickly can convince any first-timer that Crookston's faithful to a time-honored tradition. This is wonderful, engaging and gorgeous music, borne from an artist who fully deserves a boatload of acclamation. Be assured he'll eventually get it, because once he's heard, the raves and recognition surely won't be far behind. (www.www.joecrookston.com.customers.tigertech.net)
_______________________________________________________________________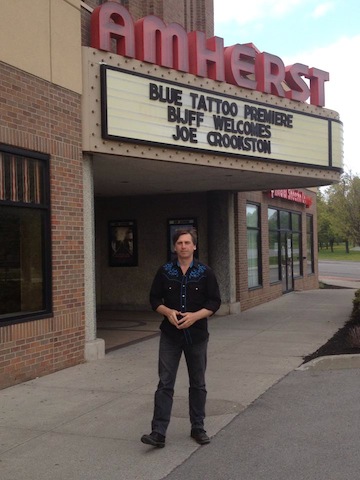 ON MAY 18, 2014 the film, BLUE TATTOO premiered in BUFFALO, NY to a full house at Amherst Cinema. I am overflowing and amazed… 6 years ago my friend Debra Chesman had a thought…she introduced me to holocaust survivor Dina Jacobson….a seed was planted…I wrote and recorded the song Blue Tattoo…Then, film makers Marty Kerker & Rich Kellman heard the song and created this new documentary. Thoughts become real. seeds grow. Here's to Dina Jacobson! Here's to the creative impulse in all of us. watch the trailer HERE
_____________________________________________________
I had a great time talking with Artie Martello at WIOX HERE IS THE INTERVIEW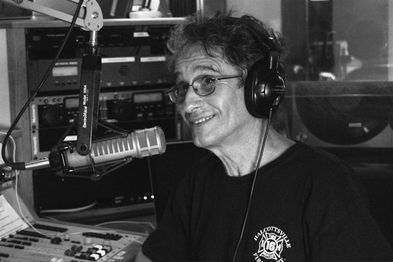 A Review in No Depression GEORGIA I'M HERE REVIEW in NO DEPRESSION MAY 2014

Thanks to Jason Wilbur for hosting me on his show. I had a great time talking with him. Click link to hear the interview! http://isoas.wordpress.com/2014/01/24/this-week-on-in-search-of-a-song-joe-crookston/

Blue Tattoo ~ The Documentary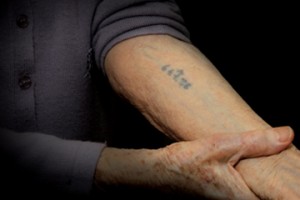 MAY 18, 2014 FILM PREMIER at the Buffalo International Jewish Film Festival A new documentary based on my song Blue Tattoo Screenings:
Dipson Theatre | Sunday, May 18 | 5:30 pm
Blue Tattoo is a documentary film that relates how songwriter Joe Crookston of Ithaca, NY and Holocaust survivor Dina Jacobson of Elmira, NY came together to form a unique friendship with a common sense of purpose.
After meeting Dina at her home, Joe crafted the song Blue Tattoo based on her life experiences. The song is written from the perspective of Dina, newly emigrated to America, explaining the meaning of the blue tattoo on her arm to her four year old daughter, Connie, in a way that protects her child's sense of innocence.
———–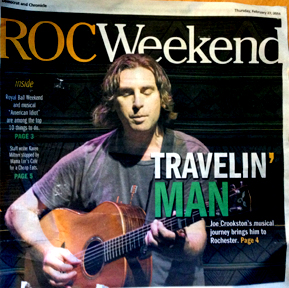 Thank You Jeff Spevak… music writer at the Democrat and Chronicle in Rochester, NY for this great article. read below:

http://www.democratandchronicle.com/story/lifestyle/columnist/spevak/2014/02/26/joe-crookston-sound/5835641/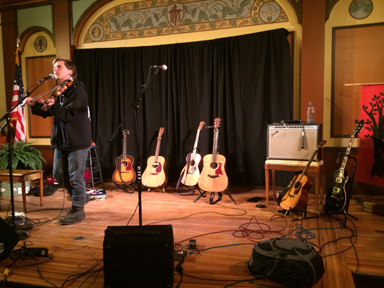 BUFFALO NY With The BlueBird Jubilee! FEB 2014. Quaker Friends Meeting House and some of the best acoustics in the Country!!!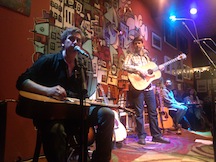 STEEL CITY!!! JAN 18 2014 WHAT A NIGHT – Thank you PHILLY- PHOENIXVILLE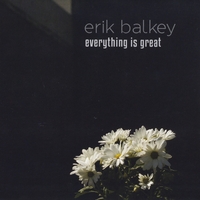 I had a GREAT time producing Erik Balkey's 2014 release "Everything Here is Great" It was recorded in Ithaca at Wilburland Studios AND in Philadelphia at Morning Star Studio. It went straight to #1 on the Folk Acoustic DJ radio airplay charts. CONGRATS ERIK! I LOVE producing music for others. You know what producing is like to me? Like listening to an artist deeply and hearing beyond their words into their soul and then helping them express what is so true for them that they may have lost sight of it.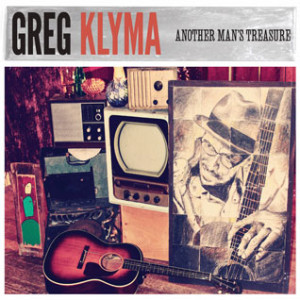 Greg Klyma asked me to do the artwork for his 2014 release "Another Man's Treasure" We went for vintage, classic, old school, and treasure-filled imagery… just like Mr Greg Klyma himself. The front cover is a painting, a drawing and an installation I built in Ithaca on the top floor of a barn filled with antiquated stereos and old radios. Check out Greg's music! CONGRATS on a great release GREG!!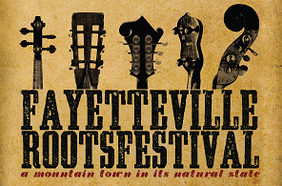 BEST OF ARKANSAS 2013! http://www.nwatunedin.com/2013/12/24/the-best-northwest-arkansas-concerts-of-2013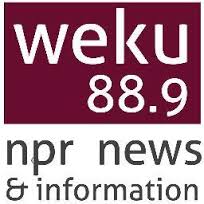 WEKU KENTUCKY NPR INTERVIEW September 13, 2013 (listen here)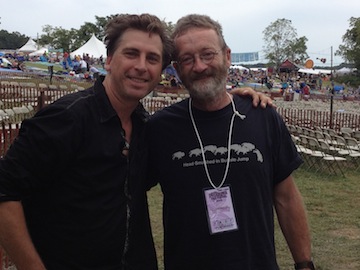 Tank Stage w/
David Francey
@ The Philadelphia Folk Festival
August 2013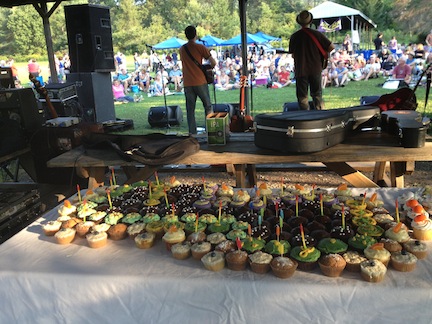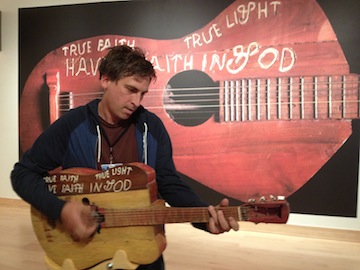 The The BlueBird Jubilee
@ Ellis Hollow Park
Ithaca, NY August 20, 2013
birthday cupcakes
IN FAYETTEVILLE ARKANSAS
@ the Ed Stilley "True Faith, True Light" Exhibit
@ The Fayetteville Roots Festival
August 2013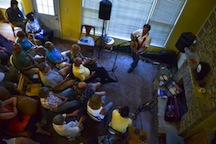 NPR STORY ABOUT CHARLOTTE House Concert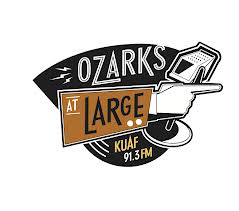 OZARK RADIO SHOW With Del McCoury & Iris Dement (listen here)
Fayetteville Roots Festival! What an honor to play a radio spot with
The Del McCoury Band and Iris Dement click the link have a listen.